The term is taken from team sports, perhaps mainly American football, where you document many "plays" that are effective in different situations. For example, "The Green Bay Sweep" (popularized in the last US presidential election):
Isn't it hard to find the parallels to sales?
If everyone in our sales organization knows how to perform an excellent demo, has the suitable material available, is adequately trained, and knows precisely when to deploy it for maximum effect – then, of course it will make a difference. Similarly, isn't it difficult to find other activities that would benefit from being correctly documented?
It is not a question of inventing something new, but of compiling what is already working; the ideal customer, the customer journey, our sales process, strategy/ tactics, and what actions a salesperson should take in different phases, materials, templates, good questions, checklists, 

Ten good reasons to create a playbook?
Below I have listed some of the benefits I see. Also, consider the analogy of a team sport, where you achieve about the same benefits with a well-developed playbook.
Make onboarding easier and faster. Having all the essential information gathered makes the initial training of new salespeople much easier. It also allows them to rehearse independently and go back in the material for tips and tips in different parts of the sales process.
Free up time for sales. Sellers don't have to spend time thinking about messages, looking for information, or creating their content – if this already exists. Some surveys indicate that sellers spend 31% of their time searching for or creating their own content.
Increase the speed. If everyone feels confident in how we work, what we communicate, and the next step in the process, you can keep a much higher pace.
Increase conversion. When it is clear how a sales meeting in a particular part of the process is to be carried out, and the next step, it becomes much clearer to the seller what needs to be done. Aberdeen Group found that the proportion of sellers who reached their targets increased from 46% to 54% if playbooks were used.
Internal communication will be much better if you agree on language and process. Far too much time is spent discussing whether a customer is qualified or not and what would be appropriate to do in a particular situation. Please put this in a playbook, and iterate about it instead.
This also means better feedback loops, especially in cooperation with other parts of the organization.
Deliver a consistent message to the market. This is important in several aspects. First, we get through faster if we are consistent, but also because we want to test how well different types of messages work against different segments and in other places in the customer journey.
Document best practices and clarify what works. And what doesn't work. Suppose a salesperson discovers that a particular technology works very well, or certain types of email convert better than everyone elses. In that case, these can be shared with the entire team in our playbook. It will also become clear which parts work worse or lack material.
Ongoing coaching. If we have not documented how to succeed, it will be much more difficult to coach a salesperson. A clear playbook will make it easier to identify where you need to get better and what tools are available.
Prepare to upscale. It is much easier to scale up an organization with the above in place. As a great Head of Sales put it last week:
A solid playbook is key to consistency!
When's the time?
Now?
Yesterday?
In general, the effect will be much more significant the more salespeople you intend to recruit. But I can see that there is a point in making the first version as soon as you start to see repeatability in your business.
If you are a SaaS company with difficulty getting a simple playbook, you have other problems. If you have found product-market fit and started building parts, it becomes pretty clear what to include. And where you might need to get sharper in the future.
What should be included?
Of course, there is no end to what you could bring. But if you focus on what's useful for getting a new salesperson up-to-speed, I see some obvious things:
Ideal customer/ICPÂ – who are we selling to.
Customer journey – how do they buy solutions similar to ours.
Stakeholders or personas at the customer – what challenges or "jobs to be done".
Value proposition and positioning – what do they want to achieve with our solution, and what sets us apart from the alternatives.
Sales process – how do we take a customer from A to Z. How do we manage leads. How do we hand over to CS?.
Organization – how do we set up internally. 
Qualification criteria – how do we determine if the customer has a budget, can make decisions, that the right people are involved, 
 Do we have a method for this?
Valuable material in the sales process – both internally and things that can be sent to the customer (callscripts, examples of cold emails, examples of intros on LinkedIn, demo script, quote template, etc
)
Reference cases – what types do we have and how do we use them the smartest.
Competitor analysis, including alternatives.
Objections/Q&A.
Negotiation strategies/tactics.
Techstack/tools – how should CRM and other tools be used.
KPI – what and how do we measure. What are acceptable levels?


For more inspiration, you can check out the templates below.
Bra exempel & mallar
Vainu – Sales Playbook Template
Winning by Design – Develop a Simple To Use Sales Playbook.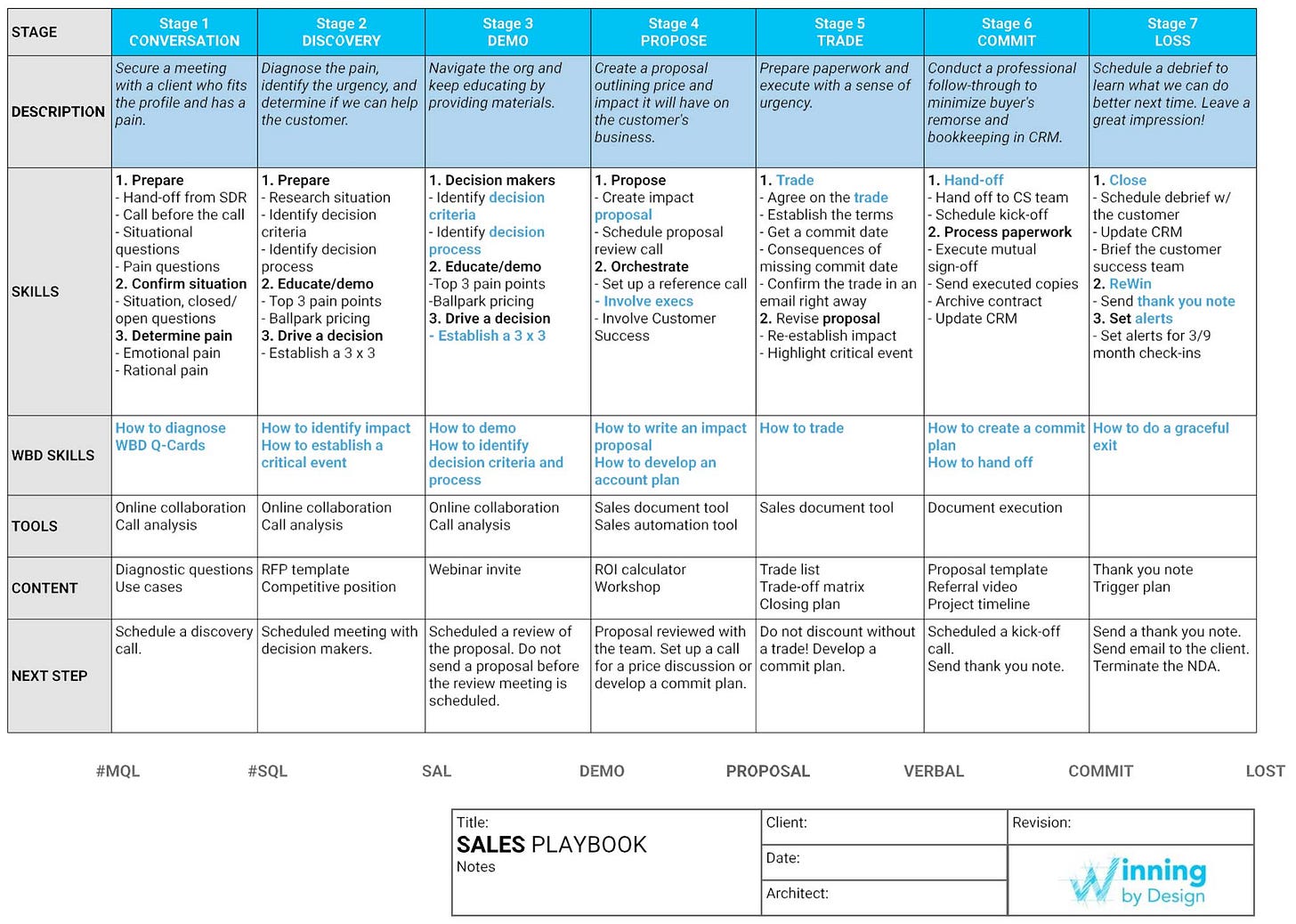 Russ Armstrong – SaaS Sales Playbook.
Klozers – The Ultimate SaaS Sales Playbook (with Free Template)✓
The most common mistakes
Of course, it doesn't always turn out as well as you intended. Here are some potential pitfalls:
You aim for perfection. You believe you can't make a playbook until you have 100% control of everything.
You set the bar too high. You just focus on the best sellers and the best cases. And you don't handle the typical, perhaps less exciting, deals those new sellers must deal with.
You make it too theoretical. You use terms and models that make you sound smart, and not everyone understands.
You focus too much internally and on how you want to sell. Not how customers want to buy.
You make it too generic. If you will make a playbook, you maybe think it will be good if it can be reused at your next job.
You don't change. Once you have it ready, it becomes the untouchable 'bible.' Even if reality changes or you discover better ways to do things.
You put it on the bookshelf

More reading
Netflix-rekommendation
The Playbook profiles legendary coaches as they share the rules they live by to achieve success in sports and in life. Featured coaches include the Los Angeles Clippers' Doc Rivers; two-time FIFA World Cup-winning coach Jill Ellis; Premier League's José Mourinho; Serena Williams' famed tennis coach, Patrick Mouratoglou; and hall of fame basketball player and coach Dawn Staley.