Detta nyhetsbrev Àr bÄde en sammanfattning av ett event vi hade hos Planima i Göteborg i början av december, och de tips jag samlat pÄ mig över tid..
Eventet var det senaste i raden av live-event jag kört med grundare, VDs och Head of Sales pĂ" SaaS-bolag i VĂ€stsverige. Det började egentligen som en liten "stödgrupp" för grundare som brottades med liknande frĂ"gor, men har sedan organiskt vuxit och bland annat lett till detta nyhetsbrev.
Denna gĂ"ng var temat "partners & indirekt försĂ€ljning".
Detta Ă€r ju nĂ"got som mĂ"nga funderar pĂ". Men dĂ€r man ibland tĂ€nker att det Ă€r en genvĂ€g till marknaden jĂ€mfört med andra go-to-market-strategier. Men som alla vet sĂ" finns det vĂ€ldigt fĂ" genvĂ€gar inom försĂ€ljning 😀
Vill man ha full effekt sĂ" mĂ"ste man göra rĂ€tt, men dĂ" kan ocksĂ" en en partnermodell ge bra acceleration i en tillvĂ€xtresa.✓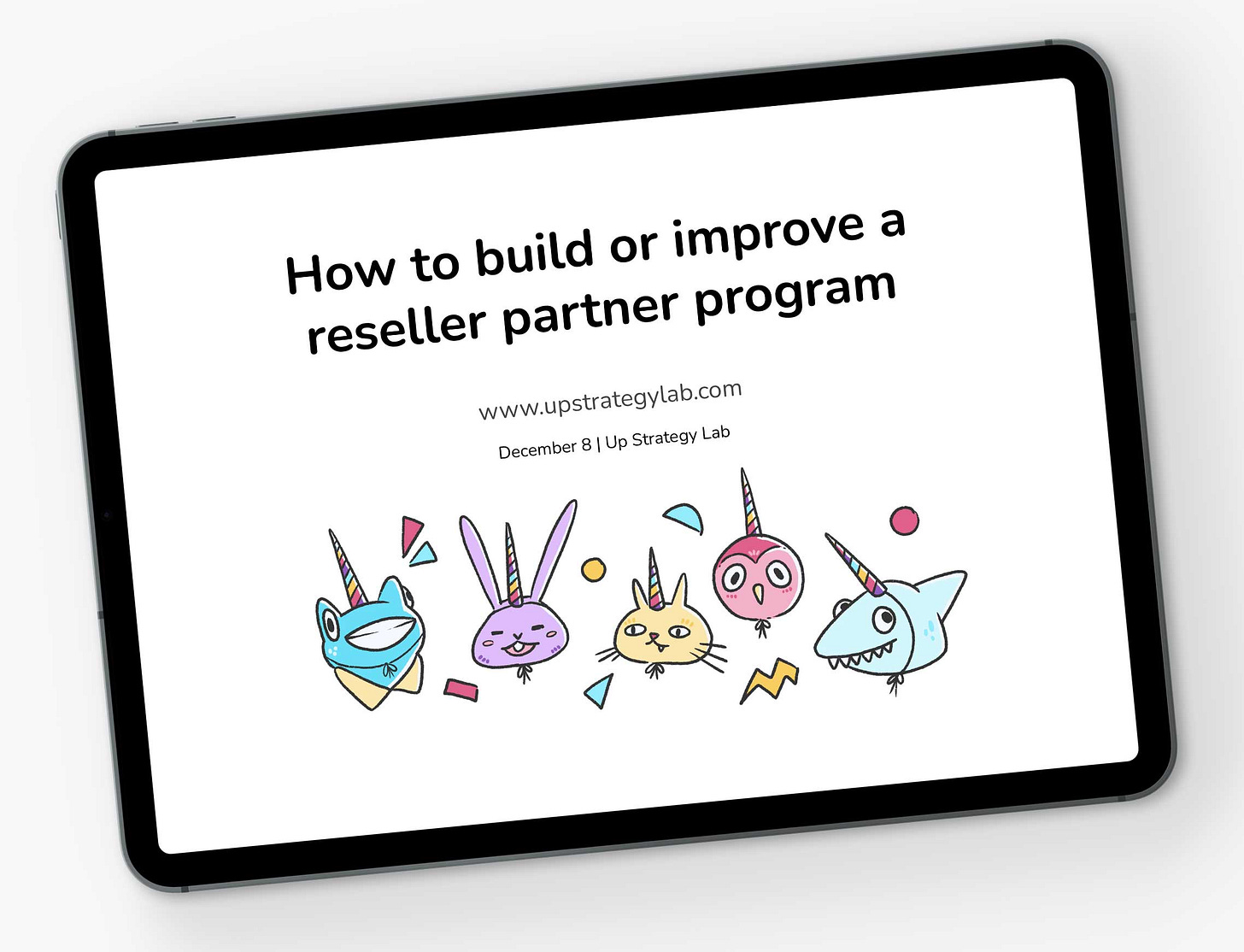 Ingen jag kÀnner har funderat sÄ mycket pÄ partnerprogram som Daniel Nilsson. SÄ han fick uppgiften att reda ut begreppen (hÀr Àr hans presentation).
Daniels artiklar Àr obligatorisk lÀsning:
Historier frÄn verkligheten
Efter genomgÄngen av Daniel sÄ hade vi tvÄ personer med lÄng erfarenhet av SaaS-bolag; Magnus Lundgren, Sales Director EMEA, Recorded Future, och Nicolas Westdahl, Sr. Global Director Sales Support, Meltwater.
Magnus sammanfattning i en bild:
Varför jobbar man med partners? För Recorded Future sÄ hade man ganska sent i bolagets tillvÀxtresa bestÀmt sig för att köra 100% via partners.
Multiply salesforce
Multiply marketing force
Partners have "special access" to clients
Too many transactions to manage
Reduce paperwork between client and vendor
Regional Ways-of-Working
Reduce financial risk
Magnus tips:
Do
Be transparent
Encourage your salespeople (commission neutrality)
Put effort into a Partner Sales Enablement program
Give deals to partners to get them going
Don't
Start too early
Spread thin
Compete with partner
Give deals to partners to get them going
Och sÄ klart hade han kollat vad ChatGPT svarade pÄ frÄgan: What do you need to build a successful partner sales program?
There are several key components to a successful partner sales program. First and foremost, you need to identify the right partners for your program. This means choosing partners that align with your business goals and have a proven track record of success.

Next, you need to provide your partners with the resources and support they need to succeed. This can include training, marketing materials, and access to sales tools and technologies.

You also need to establish clear goals and objectives for your partner sales program, and provide your partners with the incentives and rewards they need to hit those targets.

Finally, you need to constantly monitor and evaluate the success of your partner sales program, and make adjustments as needed to ensure that it is meeting your business goals.
Nicolas har ju varit med on stora delar av Meltwaters resa. Han sÄg att det fanns tre tydliga faser:
Centralisering; dĂ" ett litet "Powerhouse of Salespeople" listade ut hur man tog sig till marknaden pĂ" ett effektivt sĂ€tt.
Role clarity; dÄ ett mer seniort team kunde hantera större affÀrer tillsammans med analytiker och andra typer av specialister inhouse.
Vendor network; dÄ man hittat en balans mellan interna resurser och ett ekosystem av olika typer av partners.
En stor drivkraft hÀr var att nÄ rÀtt metrics ur ett vÀrderingsperspektiv. Dvs att en partnerstruktur inte bara anvÀnts för att sÀlja mer utan för att strategiskt optimera de KPIer som bolaget mÀts och vÀrderas pÄ.
VÀrt att tÀnka pÄ.
18 saker som avgör om vi Ă€r "partner ready"
NÀr jag försöker sammanfatta de rÄd som jag fÄtt frÄn olika hÄll, sÄ landar jag i den hÀr listan.
Vi Àr tydliga med varför vi skall ha ett partnerprogram och vad vi vill uppnÄ.
Vi har konkreta mÄlsÀttningar pÄ kort och lite lÀngre sikt (hÀr finns lite exempel pÄ mÄl).
Vi har sjukt bra koll pÄ vÄr befintliga kundresa och vÄr sÀljprocess. Vi kan i detalj vÀrdeerbjudande, stakeholders, sÀljcykel, konverteringsgrader sÄ att vi kan utbilda vÄra partners.
Vi har en fÀrdig produkt. Vill vi ha snabb iteration och feedback frÄn anvÀndare skall vi inte ha partners som sitter emellan.
Vi Àr tydliga med vem som Àger programmet internt och har sett till att den personer har rÀtt förutsÀttningar.
Vi Àr noga med att fÄ med alla stakeholders internt. Skall vi lyckas med en indirekt strategi, sÄ pÄverkas marknad, sÀlj, CS, produkt och alla andra.
Vi Àr tydliga med vilken typ av partner vi skall ha och har bra förstÄelse för de
Vi Ă€r tydliga med hur vĂ"r "ideala partnerprofil" ser ut. PĂ" samma sĂ€tt som nĂ€r man försöker bygga moment med slutkunder, sĂ" Ă€r tricket att fokusera hĂ"rt pĂ" ett vĂ€l definierat segment. Samma sak hĂ€r. Tipset Ă€r att fokusera pĂ" partners med samma motivation, dĂ" de ligger vakna pĂ" grund av samma pressande problem i sin verksamhet.
Vi kan formulera ett skarpt vÀrdeerbjudande till partners och vet att det ofta Àr Àndra saker Àn pengar som Àr viktiga.
Vi kan bygga nÄgot som kÀnns enkelt för partners att förstÄ och jobba i.
Vi Àr beredda att göra vad som krÀvs för att engagera och göra partners framgÄngsrika.
Vi kan ge partners tillgÄng till allt material och andra interna resurser de behöver för att kunna göra business pÄ ett enkelt sÀtt.
Vi Àr beredda att kommunicera tydligt och transparent, och har funderat pÄ hur vi kan göra detta pÄ ett effektivt sÀtt.
Vi har ett sÀtt att kompensera sÀljare sÄ att de tjÀnar minst lika mycket nÀr affÀren gÄr indirekt (kanalneutral kompensation).
Vi Àr beredda pÄ att det kommer att ta tid innan vi ser resultat. de kan ta 3 mÄnader att frÄn start till att den första partnern Àr ombord och ytterligare 9 mÄnader innan de tar sin första affÀr. Framförallt externa investerare mÄste vara medvetna om att detta Àr en investering i framtida tillvÀxt. Inte en quick fix.
Vi försöker inte uppfinna hjulet. Om vi inte Àr experter pÄ omrÄdet sÄ kanske vi inte behöver vara jÀtteinnovativa, utan kan snegla pÄ vad som funkar för andra.
Vi kan dock ifrÄgasÀtta saker som inte adderar vÀrde för partnern och vÄgar tÀnka bortom det sjÀlvklara.
Vi har förmÄga att iterera baserat pÄ det vi lÀr oss lÀngs resan. Det blir inte 100% rÀtt direkt.
Mer lÀsning och andra resurser
Efter att man lÀst Daniels artiklar ovan

Vilka var med?
Anton Thynell, Amido
Linus Olsson, Atritec
Andreas Hallingström, Cappy
Marcus Enqvist, Cappy
David Bryngelsson, CarbonCloud
Peter Heurling, CarbonCloud
Linda GÄrdlöv, Comactiv
Gabriella Rudström, Comactiv
Johannes Henriksson, Compular
Joakim Botha Sandnes, Eliq
Joakim Sundberg, Fastly
Frida Olofsson, Flourish
Simon Bergh, Flourish
Anders Averdal, Gomero
Nina Lian, Gomero
Petter Sjöstrand, Hypocampus
Sofie Nilsson, Imbox
Robin Andersson, LexEnergy
Matilda Thorsell, LexEnergy
Nicolas Westdahl, Meltwater
Marcus Berglund, Pilotfish
Anton Lindegren, Plate Impact
Jakob DalenbÀck, Plate Impact
Magnus Lundgren, Recorded Future
Bujar Ibishi, Sqillz
David Gagner, Touchtech
Magnus Carlsson
Daniel Nilsson, Up Strategy Lab
Till sist, stort tack till Anton, Felicia, Jens & Philip och alla andra pÄ Planima för att vi fick hÀnga hos dem.